1999 Isuzu VehiCROSS
SOLD
It is time to sell the coolest truck I have ever driven.
Although I am not the original owner, I might as well be. In 1999, I bought this VehiCROSS "used" from a Mercedes dealership in San Rafael, CA, where someone has traded it in with only 1,050 miles on it. Boy, did I feel smart. I'm selling now because I hardly ever drive it, and I believe there's a true fan of this rare vehicle out there that can give it a better home.
This is the very first model year of this historic vehicle, in the color and configuration that the wise consider the definitive look of the VehiCROSS. I am intentionally listing for what I feel is a better than fair price. I would rather sell this truck to an appreciative new owner who will preserve it well, than make a few extra bucks.
If you are not familiar with the VehiCROSS, scroll to the bottom of the page for some basic information that I had way too much fun writing.
DETAILS
1999 Astral Silver with red/black "Darth Maul" (it was the '90s) interior
California car, non-smoking owner
100,413 miles
Factory wheels
BFG AT tires in good condition. Even wear, badassness
New alternator and battery (2014)
New starter (2015)
New brake pads front and back (2015)
Recently brushed fangs (2015)
Factory spare and jack
2 Factory key fobs, one unused, and 2 spare keys
Fob is a weird word.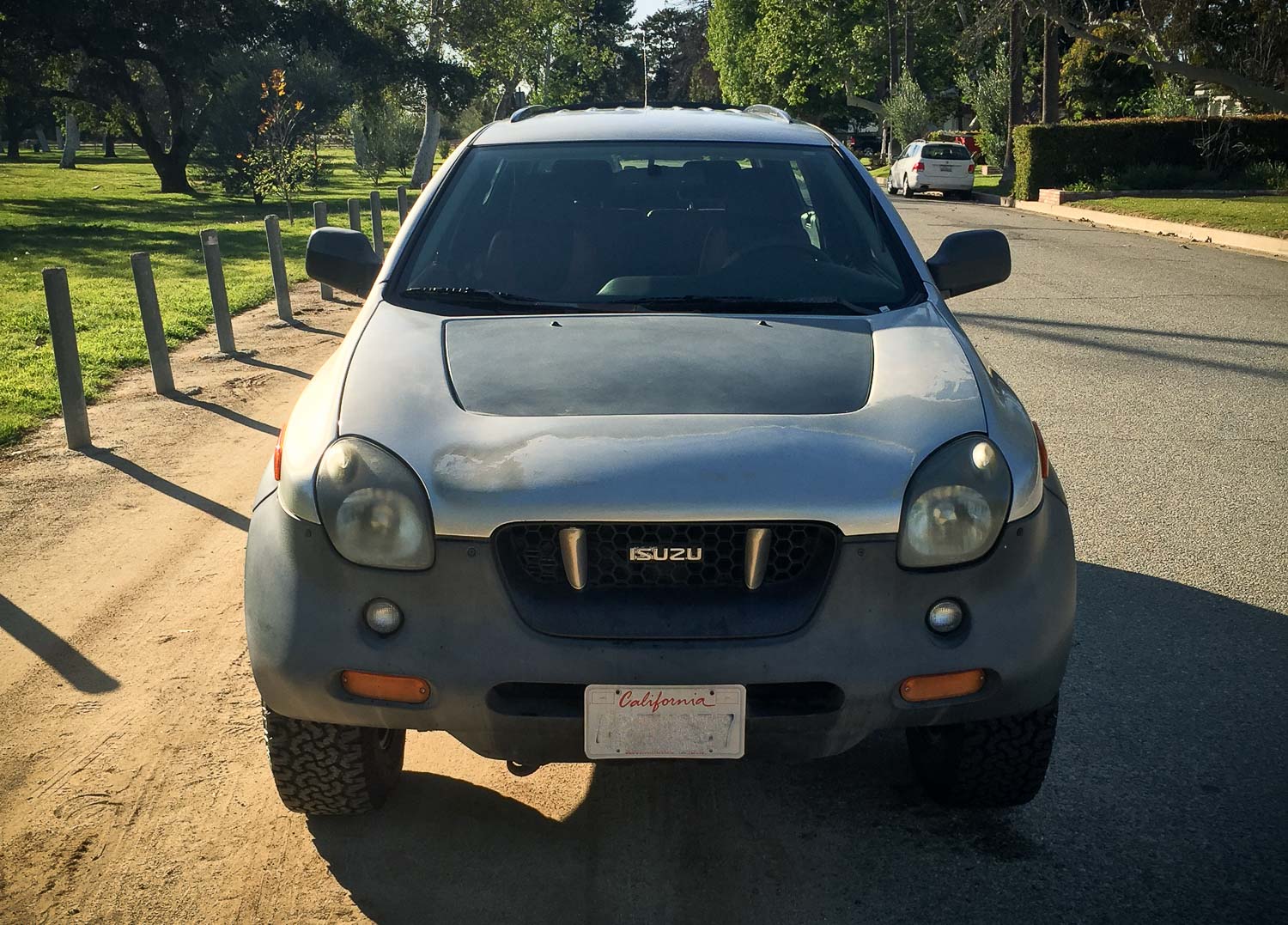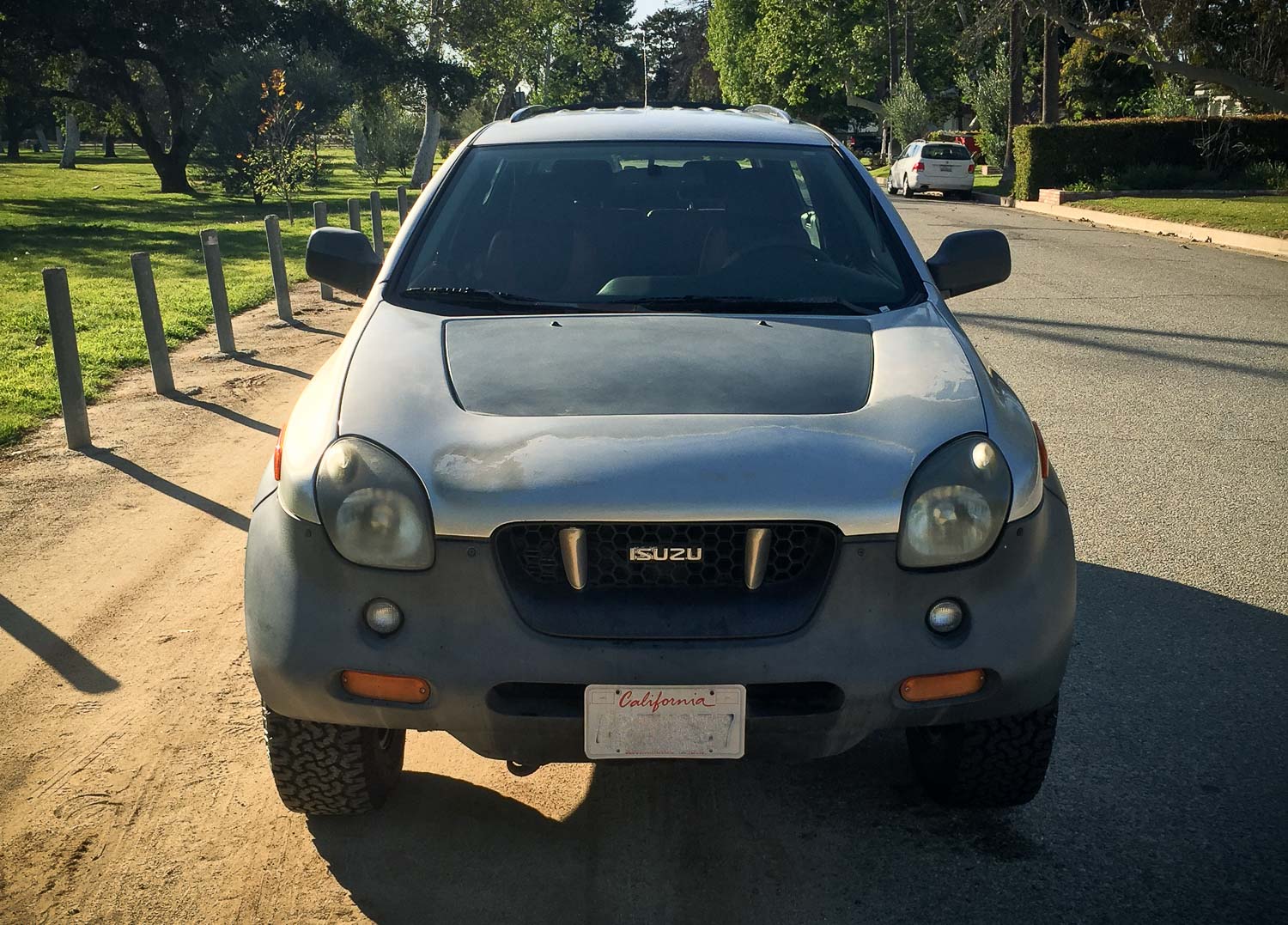 Is it an urban assault vehicle? Or some kind of spacecraft? Is it too pretty to drive off-road, or too capable to keep in a city?
The Bad
Time heals all wounds. Except with cars. This beauty is 16 years old.
The hood has some fading from the California sun. Don't we all.
The headlights are fogged a bit. I've never tried cleaning this up, as they work fine.
Some weatherstripping is coming lose from the driver's side door frame. Perhaps starting a trend.
The hood release mechanism doesn't work as well as it could.
The usual buyer-beware stuff. My mechanic can always find something new to fix on this thing. I think he likes money.
The Good
Of the many things that can go wring with a 1999 VehiCross, many have not with this particular one.
The low milage is because, for the last 5 years, I've kept this car in LA to drive on business trips. It has probably been driven less than 1,500 miles/year since 2009.
Vehicle is well-maintained. In the past year I have replaced the alternator, battery, starter and all four brake pads. Always passes emissions tests.
No clunking or TOD issues. Smooth acceleration and braking.
All of the exterior cladding screws are intact.
Having spent its whole life in CA, there is no visible rust, except for a bit on the windshield wipers.
None of the interior plastic panels are cracked or faded.
The window motors are in good working shape and both windows operate without binding—as long as you "help" the driver's side window up with a nudge of your hand. This has been cured in the past with a bit of lubrication on the rear edge of the window.
The leather interior is in excellent condition overall. There is some cracking on the armrest/cover of the center console, but everywhere else the leather is free of cracks and fading.
It still has the weird net that stretches between hooks in the rear cargo area. So.
Although not shown in the photos, it still has the original cigarette lighter (never used).
Original owners manual
Key for the theft-deterrent lug nuts
Came with two alarm fobs, I only ever used one, and it's missing a screw. But the spare fob is mint and works perfectly. Also included are two spare keys.
About the VehiCROSS
In 1993, Isuzu showed a concept vehicle called the VehiCROSS at the Tokyo Auto Show. Response was so favorable that Isuzu instituted some clever methods to bring the vehicle to production. This included using ceramic dies to stamp the body panels, rather than iron, which reduced the cost of production, but also limited the number that could be made, as the ceramic dies wear out faster. The VehiCROSS was released to the Japanese market in 1997, and then in the US in 1999.
The VehiCROSS was revolutionary not only for its looks, but also for its capabilities as an off-road vehicle. Based on the chasis of the Japan-only 2-door Isuzu Trooper, it featured an always-on computer-controlled 4-wheel drive system called "Torque On Demand" that allowed it to redistribute power to all four wheels as needed to maintain traction, based in input from 12 different sensors. Its live rear axle features massive coil springs, and in front, the independent suspension is dampened by extruded aluminum, remote-reservoir shocks usually seen only on racing trucks.
All that combined with a 3.5L V6 engine to make the VehiCROSS fast, fun, and uniquely capable. It was the fastest SUV on the road for many years, besting some costing double its price, yet it also boasted the most suspension travel of any independent front suspension vehicle ever made.
Am I telling you that I dusted a Mercedes M-Class at a stoplight Indie 500 in 2004, getting onto the Bay Bridge? No. I would never claim that.
Inside, the VehiCROSS featured Recaro racing seats in two-tone leather, and a leather steering wheel to match. Door interiors were detailed in a faux carbon fiber. Outside, the signature body cladding was as functional as it was unusual at the time. You'd never worry about a stray shopping cart rolling into this truck.
Oh, and it has fangs.
My VehiCROSS still turns heads and looks like it's from the future today, 22 years after the first concept model was shown in Tokyo.
Only about 4,000 of these amazing vehicles were ever sold in the United States. I've loved every moment behind the wheel of mine, and I hope you will too.